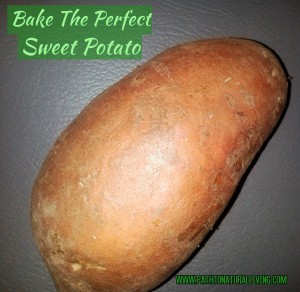 Our family eats a lot of sweet potatoes, even my two year old enjoys them regularly. I'll share my tips for baking sweet potatoes in the oven to perfection.
Sweet potatoes are very easy to bake as long as you know a few trade secrets. I'll share how I get a perfectly cooked sweet potato every time.
Why Everyone Should be Eating Sweet Potatoes
Sweet potatoes are absolutely delicious.  I would dare to say they are my favorite food.
So since they taste so good -it would be too good to be true if they were healthy – right? WRONG!!
Sweet potatoes are high in fiber and low in calories – a perfect combination for maintaining a healthy weight. The fiber is slow digesting and helps you feel full for longer periods of time.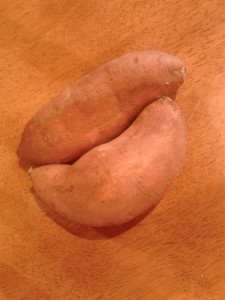 A serving of sweet potatoes is about 100 calories compared to one serving of white potatoes at 400-500 calories. Awesome!
Sweet potatoes, bright orange color means they are jam packed with  the antioxidant beta carotene. They boast anti-inflammatory properties as well.
If you have diabetes or are pre-diabetic – sweet potatoes are a great food to add to your menu. There low on the glycemic index – meaning sweet potatoes slowly release glucose into your bloodstream, making them a great choice for diabetics.
Learn more about about sweet potatoes health benefits at Livestrong.
4 Steps to the Perfect Sweet Potato
Preheat oven to 300 degrees
No need to pierce with fork like regular potatoes
Wrap each sweet potato in aluminum foil with the foil opening facing upward. I line my baking sheet with aluminum foil in case the sweet potatoes leak.
Bake the sweet potatoes for 2 -3 hours until a fork pierces easily. Lower temperate and longer baking time makes for a sweeter sweet potato.
I enjoy my sweet potato with some coconut oil and a sprinkle of salt.  Delicious!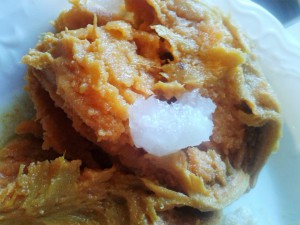 The Perfect Sweet Potato in a Fraction of the Time
Recently I discovered my pressure cooker makes an even better sweet potato – in a faction of the time! I steam my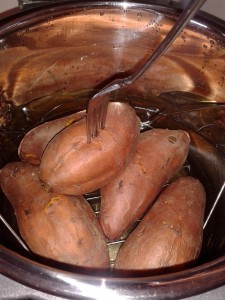 sweet potatoes in the pressure cooker for 10 minutes – it is hands down the easiest and fastest way to get a perfect sweet potato.
Just add about a cup of water to the bottom of your pressure cooker and set your regulator to pressure.
My pressure cooker has several preset settings – the steam setting automatically adjusts to 5 minutes – that was not long enough, so I make a quick adjustment so they steam for 10 minutes. Perfect every time!
If you eat a whole foods diet – you really should consider investing in a pressure cooker. The foods I cook in my pressure cooker come out fabulously and at a fraction of the time it took me to prepare in my oven or stovetop.
You can cook real food in a fraction of the time using a pressure cooker – while sealing in nutrients that are stripped with normal cooking methods.
My favorite things to make in my pressure cooker are hard boiled eggs, yogurt, beans, rice, anything you would cook in your crockpot and of course sweet potatoes.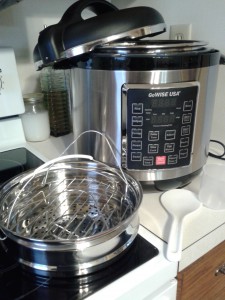 Where I Buy My Sweet Potatoes
I buy my sweet potatoes at Aldi. They have the best price and I always get a great sweet potato. When they go on sale – I can get a bag with 4-5 sweet potatoes in it for less than $2.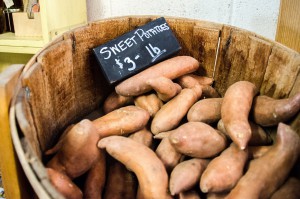 When I buy sweet potatoes from my local grocery store, they are more expensive. More concerning, I had several occasions with a strange texture after being baked – like a regular potato but orange.
I'm not sure why – Aldi has never let me down so they are where I purchase my sweet potatoes.
I originally thought it might be a yam instead – but the video below debunked that idea.
Get Cooking
Whether you are baking your sweet potato in the oven or steaming them in your pressure cooker – get cooking!Sweet potatoes are one of the healthiest foods around – and did I say how  delicious they are?!?!
Consider adding a pressure cooker to your kitchen to make eating whole foods that are nutritious and delicious fast and easy!
Make sure to share this post with your family and friends too!