I agonized over the best pressure cooker to buy for my family, there were too many options! I was already sold on a pressure cooker – I knew it would simplify my life by cooking fast and delicious meals. For my family real food – real fast is essential.
My goal was a versatile appliance with many uses, saving space in my kitchen and to get rid of one use appliances like a crockpot, yogurt maker, and rice cooker.
Purchasing a pressure cooker is a smart move for any family. It's important to explore all the options to match your purchase to your family's needs.
How a Pressure Cooker Works
When you understand how a pressure cooker works you'll realize the tremendous health benefits and learn how to stay safe. Originally I thought pressure cookers use high temperatures to cook your food so quickly, not so. A pressure cooker is a sealed pot that you add a small amount of water to. As the water in the pot boils at 212 degrees it creates steam, the steam creates pressure, it is the steam that cooks your food.  The highest temperature at which your food is cooked is 250 degrees.
The steam cooks food to perfection by forcing moisture into your food. The result is moist, tender, and flavorful results. The low temperature locks in vitamins and minerals that are lost with the long times needed in traditional cooking. Pressure cooking takes a fraction of the time with amazing results!
This video will explain all about how pressure cookers work and how to use them

Cooking Under Pressure
When you turn on your pressure cooker, the pot needs to come to pressure before the cooking countdown starts. Pressure is achieved when you have enough steam in the pot.  Frozen food takes a few more minutes to come to pressure.
Once the cook time is over, pressure needs to dissipate before opening the lid. The natural release method is just as is sounds – you let the pressure dissipate on its own. The quick release method you use a valve to quickly release the pressure in the pot. Some foods will require a quick release in pressure, other foods should naturally decrease in pressure.
Manual vs. Programmable
Electric Pressure cookers are an appliance that you plug in and are fully automated to adjust pressure and time for you, unlike the stovetop counterparts. They have several built in safety features. Once you fill your pot with food and the correct amount of water – you can set it and forget it until the timer beeps.
Most electric pressure cookers are programmable for high and low pressure with a variety of presets for convenience and easy cooking. Wolfgang Puck sells a pressure cooker that only has a timer  no presets or way to adjust the pressure high or low – I would not recommend this one. I personally love the convenience of setting the pressure cooker to do the work for me so I have more time to spend with my family.
Electric Pressure cookers are an appliance and require a place in your kitchen to store them. Mine is taller than a crockpot, but smaller around. The great thing is I was able to get rid of my crockpot as my pressure cooker replaces it – and it can do so much more!
The major benefit of an electric pressure cooker is its full proof. You can set it and forget it. Many come with delay timers and an automatic keep warm setting.
Inner Pot – Nonstick vs. Stainless Steel
The inner pot of an electric pressure cooker can be a nonstick surface or stainless steel. At first the allure of nonstick seems great – fast and easy cleanup. The Environmental Working Group (EWG) raises a lot of questions about the questionable safety of Teflon nonstick cookware, linking it to birth defects and cancer. Ceramic non-stick options available, providing the convenience of non-stick without the health risks.
I went the safe route with a stainless steel inner pot. Yes stainless steel is more work to clean, but not much. I wash my pot, then get it shiny again with my DIY Stainless Steel cleaner. I use it on my sink too and it's a great alternative to toxic cleaners like Bar Keepers Friend Stainless Steel Cleaner. My inner pot cleans up like new EVERY TIME.  For a tough mess I will soak the pot before washing. Here is what the inside of my inner pot.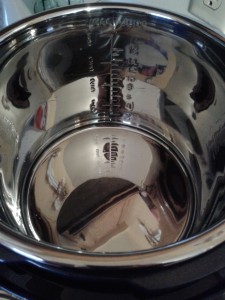 Size of Pressure Cooker
Pressure cookers come in a variety sizes – 4, 5, 6, 8, or 10 quart. Match the size of your pressure cooker to the size of meals you plan to make for your family.  A 6 quart pressure cooker has enough room to cook an entire chicken.  For a standard family of 4, a 6 quart pressure cooker should be sufficient.
We are a family of 6, so I bought an 8 quart model to feed my growing family. I did not want size to limit what I could make in my pressure cooker. I like to cook in bulk so we can have leftovers and portions to freeze for easy meal prep.
The most choices are a 5 or 6 quart size. It is important to know what size your family will need for your new pressure cooker.
Safety Features
Pressure cookers have come a long way with safety. I was originally concerned I going to blow the lid off of it if I did something wrong. Thankfully electric pressure cookers come with safety features that prevent things like blowing the lid off or an explosion.  Manufactures of electric pressure cookers have done an excellent job of keeping us safe, making pressure cooking safe for easily distracted people like me!
Additional Features
Think about what additional features would be useful to you. What pre-sets would be useful to you?
Sauté function
Delay Start
Automatic Keep Warm
Slowcook
Steamer
Hard boiled Egg Preset
Rice Preset
Yogurt Pre-set
Bean/Legume Pre-set
I have made my own yogurt for several years, so I wanted a model that had a yogurt preset. While it was fairly easy to make yogurt, the ease of making yogurt in a pressure cooker was beyond anything else. My 4 year old could make it – my 8 year old could make it all by herself. It is that easy!
I used to soak and cook my beans in the crockpot -it took forever! Now I have perfectly cooked beans in less than an hour.  I would bake sweet potatoes for 2 hours in my oven to get sweet and tender. Now I steam them – ready in less than 20 minutes!!
My Recommendations
Best Value: GoWise Pressure Cooker
GoWise has all the features of the more expensive pressure cookers with a smaller price tag – the 8 quart model is the same price as other brands 6 quart model. GoWise offers a 6 and 8 quart model with a stainless steel inner pot, lots of presets and safety features. You can even make yogurt, rice, and hard boil eggs in it! Check out my GoWise Pressure Cooker Review.
Best Mid-Range: InstantPot
InstantPot seems to be the most popular brand with most consistent ratings. They are a trusted brand in the pressure cooker industry and are leading the way in new technology. Last year they came out with a high end model you can configure with Bluetooth technology!!  Only downfall is they only come in a 5 and 6 quart sizes.
Mid-Range Runner Up: Cuisinart
Cuisinart's electric pressure cooker comes in a 6 quart size with either a non-stick or stainless steel inner pot. There are only a few pre-sets so most of the programming will need to be done manually, although it has a 12 hour automatic keep warm setting. Cuisinart boasts a 3 year limited warranty and customers seem to love them!
Chemical Free Non-stick Finish: Fagor Lux
If you are looking for a non-stick inner pot – check out Fagor Lux's ceramic pressure cooker.  It comes in 4, 6 and 8 quart options. The saute function works great and customers boast that it comes to pressure more quickly than other models. It does not have as many pre-sets as other models, but has the most popular ones. The Fagor Lux is priced higher than comparable models.
What I Bought
After a lot of research I decided on the GoWise Pressure Cooker. It had the 8 quart size I wanted, a yogurt pre-set and a one year warranty. It was one of the only stainless steel 8 quart pressure cookers out there. I'm very happy with my purchase and experimenting all the time on what to make in it next. Here is my review of the GoWise Pressure Cooker.
Don't let another week pass by without one of these gems in your kitchen! You deserve an extra hand in the kitchen. My only regret was waiting so long to buy mine.
Cookbooks
A few pressure cooker  cookbooks are a great idea to add to your collection. Cooking under pressure is a little different than traditional cooking, you want to make sure you get your cooking time and amount of liquid correct. Great Big Pressure Cooker Book by Bruce Weinstein and Mark Scarbrough and Pressure Cooker Perfection by America's Test Kitchen are great books to add to your collection.
There are a variety of websites with pressure cooker recipes and instructions on how to use our pressure cooker. My favorite is Miss Vickie's site – she has all the recipes and information you will need on how to get started pressure cooking.