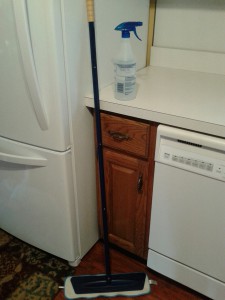 A few years ago we updated our linoleum floor in our kitchen. The Bona Wood floor cleaner was recommended on our new floors, but I wasn't happy with the haze it left on my floor and that haze got smudged around when people walked on it. It just always looked dingy and not clean. That was UNTIL I discovered the best way to clean hardwood floors! (It is also the best way to clean laminate floors!)
I made a simple homemade cleaner with alcohol, castile soap, water and vinegar. The vinegar and castile soap give it the cleaning power and the alcohol helps the surface dry quickly to avoid streaks.
What you need
You will need an empty spray bottle to put the solution in – I got mine from Lowes for less than $1. It has held up much better than the dollar store spray bottles. Or you can use the Bona Hardwood Spray Mop (check out my review here) and just put your solution in there instead of a spray bottle.
I use the Bona Hardfloor Care System (check out my review here) – it has held up very well for the past several years. If our current mop ever fails I would upgrade to the Bona Spray mop, its the all in one solution. I also purchased some extra microfiber cloth heads from ebay – although they are not quite as thick as the bona ones, they work just as well and cost much less than the Bona replacement cleaning pads. Or you can get extra Bona microfiber cleaning pads if you prefer the original. I like to have a bunch on hand – my kids are messy.
Here is the Recipe:
Mix equal parts of the following in a empty spray bottle. My spray bottle has lines along the side of the bottle to help measure. It is okay to just eyeball it.
Then add a squirt of castile soap, shake and you're ready to get cleaning. I just mist the cleaner on the floor and use the Bona mop to clean it up. The dirt and mess should come up quickly and easily.
Here are the reasons I love this hardwood floor cleaner:
This stuff works better than Bona and there is no haze after cleaning
It saves me lots of money, the cleaner is much less expensive per bottle then Bona and the microfiber cloths are reusable (just wash in hot water).
I know exactly what ingredients are in it and am comfortable using it around my children
It does an amazing job getting the dirt up! I was able to get messes with less passes of the mop using my homemade mix vs. Bona.
It is hard to see in pictures, but I hope you can see there is a haze after using the Bona.
And the homemade Hardwood Floor Cleaner cleaned up the spots in less passes than the Bona. Less work = a happy Mom
Give this super simple solution a try – I'm sure you'll love it as much as I do!