Did you know your favorite nail polish probably contains formaldehyde?? Nail polish manufacturers use many dangerous chemicals in your nail polish.   I've tested two of the top chemical free nail polish brands (including being formaldehyde free nail polish) – Zoya and Julep.
It sounded crazy to me when I first heard all the chemicals that were in nail polish. I don't know about you but I thought formaldehyde was used to embalm dead bodies, not put on the nails of my myself and my little girls.  I knew there had to be safer option.
Here are the results from our in home test.
Julep is free from formaldehyde, formaldehyde resin, toluene, DBP, camphor, and animal ingredients or byproducts.
Julep went on well and dried in about the same time as regular polish.  It smelled like normal nail polish to me, I was expecting less odor but really I did not notice any difference.
The durability of Julep was probably slightly under what I would expect from regular polish. I was disappointed that it lost that glossy look after a week or so though.
They have a good selection of colors. Color selection seems a little disorganized on their website. I wish it was arranged by shades, instead it seems to jump around from color to color, making it more challenging to pick out your color. Not a big deal, but it would be helpful to categorize colors like they do in the store.
The standard bottle size is .27 oz. so it is smaller than your standard size nail polish. It is priced at $14 per bottle. While the bottle is on the small size, it is still suitable for most people. Think about the last time you used up a bottle of nail polish?
Zoya is free from toluene, camphor, formaldehyde, formaldehyde resin and DBP.  Zoya smelled a little less strong than Julep but it still has a nail polish smell to it. Again I was expecting less odor.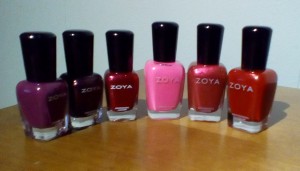 This polish works amazingly well. It holds up better than most mainstream polish I have worn. I used a dark color on my toes and it covered on in just one coat – usually I need to do two coats.
With my purchase I got a free bottle of Zoya Nail polish remover. This worked amazingly well and was less pungent that normal nail polish remover, but again still had a smell to it.
They have a great selection of colors in almost any shade. Plus they come out with seasonal colors to give you even more options. I was very happy with the wide selection so I could get just the right shade of polish. Zoya's colors were arranged by shade on the website which was great. I did get into a little analysis paralysis trying to pick out the right shade- there were so many options.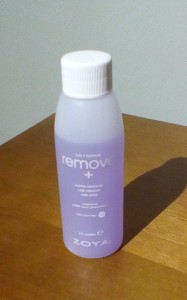 Zoya costs $9 per .5 oz bottle. Zoya has gift sets that contain .25 oz bottles instead of .5 oz bottles. I don't think I've ever finished a nail polish bottle before it dried out so these were the perfect size for me and they worked out to be about $5 a bottle for the .25oz bottle. The limit with the gift set was you don't get to pick all your colors, the sets colors are predetermined.
I think Zoya was the overall best value and best performing.
This is next on my list to try for my little girls. I am excited to hear that it is almost odor free and water based. Plus it just peels off thus nail polish remover is not needed. I have heard it does not stay on their nail long, I can't say regular polish stays on my girls hands long anyway.
What nontoxic polish have you tried and liked? I'd love to hear from you!
This post may contain affiliate links to help me pay my bills and keep this site up and running 🙂