There is a lot of confusion about what cooking oils are best to use so I've created a Healthy Cooking Oils Chart below. It will help you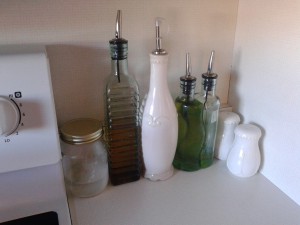 decide the best healthy cooking oil for you depending upon what you are cooking.
We've been told coconut oil and butter cause heart disease, now we're seeing evidence to the contrary. One of the biggest misconceptions I had was that eating fat makes you fat, not so. Its the type of foods that you eat that is important. The closer to nature and the less refined the better.
Here are the cooking oils I avoid and are typically found in prepared foods:
Crisco
Canola Oil (or Rapeseed Oil)
Soybean Oil
Corn Oil
Safflower Oil
Healthy Cooking Oils Chart
| | | | |
| --- | --- | --- | --- |
| Cooking Oil | Characteristics | Smoke Point | Notes |
| Coconut Oil (virgin) | Does not taste like coconut, buttery consistency | 375 Degrees | Antimicrobial, antiviral, antibacterial and amazing for your health. Great in baked goods as a butter substitute. |
| Coconut Oil (refined) | Light coconut taste, buttery consistency | 375 Degrees | This is refined so it loses some of its great antibacterial, antimicrobial, and antiviral properties. This is still a great choice if you can't get past the coconut taste. |
| Avocado Oil | Virtually no taste | 520 Degrees | High smoke point makes this great to fry foods in. Plus it is high in Vitamin E and Omega 9 fatty acids. |
| Macadamia Nut Oil | Rich, nutty flavor (make sure to get it unrefined otherwise it is very neutral) | 390 Degrees | This is my favorite oil that we use all the time. It is even better for you than olive oil. It is delicious on veggies with a little salt |
| Olive oil | Tastes like olives | 400 Degrees | Best in salad dressings and meals that will compliment the taste of olive oil. CAUTION this is a highly adulterated oil |
| Butter from grass fed cows | Creamy buttery taste – yum! | 350 Degrees | Butter got a bad rap, butter from grass fed cows is best. |
| Tallow | Creamy – will have a slight taste and odor like beef | 350 Degrees | I render my own tallow when we get meat from a grass fed cow, just cut the fat pieces into small chunks and set the crockpot on low. |
| Palm Oil | No taste – buttery consistency | 430 Degrees | This is my favorite butter alternative in recipes. Look for a brand that is sustainably sourced as some manufacturers are cutting down the rainforest harvesting palm oil |
| Grapeseed Oil | No taste | 420 Degrees | Okay to use in moderation, I often use this when a cake calls for a few tsps of oil. It is also a great moisturizer. |
I'd love to hear from you! What is your favorite cooking oil?