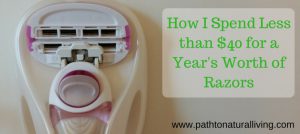 Why are razor blades so expensive? It is mind boggling.
Gillette and Schick dominate the market for high quality razors and they know it – charging us a pretty penny to get a smooth shave.
Picking up razor cartridge refills was something I avoided as long as possible. In return, I got a bunch of cuts from dull blades.
Take the sting out of changing your razor cartridge!  I'm going to share exactly how I got high quality razors delivered right to my door for less than $40 a year – you can too! Keep reading to find out how.
It was Time to Break up with Your Razor
I was a Gillette Venus razor girl for many years. Loyal to the brand because I was happy with the close shave it gave me.
Until one day…  it was time to buy my razor refill cartridges. I grabbed an 8 pack of razors, and realized they were $20 bucks!
I snapped. I got mad. I almost wanted to stomp my feet on the ground like a little kid (but I didn't).
I put the razor cartridge back on the hook. I was no longer a loyal fan. Years I overpaid for razors.  No more. I was not going to buy one more razor cartridge refill from Gillette.
I would find a solution that would give me a smooth shave – without the sticker shock.
Was Dollar Shave Club the Answer?
Where could I find quality razors? The search was on.
I found a company called the Dollar Shave Club. You may have heard of them. They have a pretty funny commercial. It gave me a chuckle.
For $1 – $9 per month you get razors automatically shipped to your home. The cost depends upon the razor you choose (2, 4, or 6 blades). Shipping is included in the cost except the $1 razor has a $2 shipping fee.
The downsides for me were:
There were only three options to choose from.
They were geared toward men.
I'm not a fan of monthly subscriptions – I prefer to buy things when I'm running low and stock up.
The Dollar Shave Club is a great option for many people – set it and forget it. It just wasn't a fit for me.
So who makes the razors for Dollar Shave Club since they offer them at an affordable price?
Quality without Compromise – Plus an Incredible Selection!
Dorco manufacturers razors for Dollar Shave Club. I had never heard of them. Have you?
Turns out Dorco is one of the most popular brands of razors in Asia. The company has been around since 1955. Who knew?
I was very excited to learn Dorco sells their razors directly to the public.  Their slogan is "Demand more for less".  I'm on board.
I was amazed that they had such a large selection to choose from and the prices were easy on my wallet.
I took a leap and made a purchase.  I had my fingers crossed that they were the same quality I was used to.
Here is what I ordered:
Shai Soft Touch Handle – 2 razor cartridges were included
Shai Soft Touch Razor cartridge refills (24 count)
Bikini Trimmers (3 Count)
My total with shipping was $32 – I used a coupon along with their current promotion at that time.
That's a total of 26 razor cartridges. That's enough razors for me for 2 years (I shave 2-3 times per week).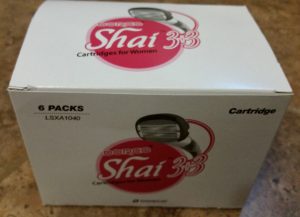 It was a freeing! I could change my razor cartridge whenever I wanted! No more guilt feelings about how expensive they were.
It's the small things 🙂
What's the Verdict?
I have been using my Dorco razors since January and I am happy to report that Dorco razors are every bit as good as Gillette's Venus.
I change my blade more often – no more procrastinating to save a few bucks. In return – no more cuts from dull blades.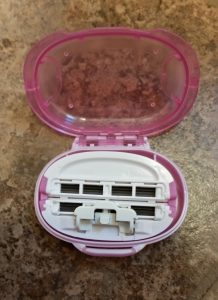 I get a nice close shave – no razor burn. I haven't used shaving cream in years – I use hair conditioner instead. A little different but it moisturizes my legs and is 1 less bottle in the shower.
The suction cup for my Dorco razor actually stays on the shower wall – my old Venus suction cup fell off all the time. Especially when I took my razor on and off the suction cup holder.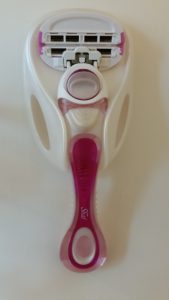 You can check out my full review of Dorco razors here.
The bikini trimmers are awesome. They are small and perfect for trimming in delicate places. I love them.
They have razors like this in the store that retail for $5 each! Dorco sells a 3 pack for $2.75!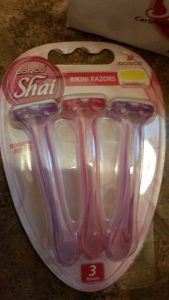 Share with the Man in Your Life
Dorco razors have a full line of men's razors as well as women's. There's something for everyone.
I bought my husband Dorco razors when his Mac3 razors ran out. He said it took a few days to get used to, but he now gets the same quality shave he was used to with his Gillette Mac3 razor.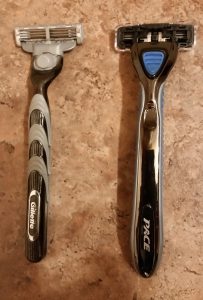 I bought him the Pace 3 and Pace 6. He only wanted a maximum of 3 razors, he was concerned more razors would cause more irritation.
For now the Pace 6 is still in the box. I will update the post once he tries them out. From the reviews on Dorco's site – there are a lot of rave fans of the Pace 6.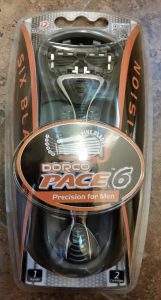 Share the Savings
If you're ready to start saving some serious money on razors, I highly recommend giving Dorco razors a try.
Share this article so they can stop overpaying for razors too!

And check out a full review of Dorco razors – covering the all the options you have to save money.