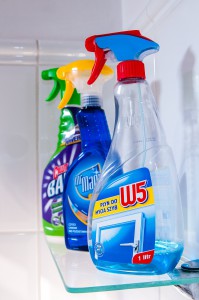 According to the Environmental Working Group (EWG) "U.S. law allows manufacturers of cleaning products to use almost any ingredient they wish, including known carcinogens and substances that can harm fetal and infant development." That's a scary thought! I have 4 little kids running around and the last thing I want to be doing is spraying a known carcinogen around them or a surface they will touching.
Making your own cleaners is fast, easy, fun, safe and economical.
You can make your cleaners for a fraction of what you'd pay in the store for a green cleaner or a regular cleaning product. Here are some of my favorite ingredients I use to make my own cleaners
Vinegar is probably #1 on my list – read more about it here
Soap and water – easy and often overlooked. It is the best way to kill viruses and bacteria. I personally use castile soap but they have other scents if you don't care for Lavender. One bottle lasts me a year! We use it in our foaming handsoap pumps, in the all purpose cleaner, to get stains out of clothing…
Baking soda and water – mix to form a paste and clean off soap scum, baked on messes, or clean up pots and pans. It is a great scouring agent that does not scratch surfaces.
Hydrogen Peroxide is a great carpet cleaner and works wonders in getting stains out of clothing.
Salt is a great scrubbing agent – clean your cutting boards with 1/2 a lemon and some salt. It has more scrubbing power than baking soda but you should use a little more caution as it may scratch some surfaces.
Microfiber cloths are a thing of wonder! Save some elbow grease – they clean surfaces much quicker. I use everywhere in my house. I like to have a few color options as I color code what color towel I use to clean what. Blue microfiber cloths are for the kitchens, yellow are for the bathrooms, and white are for windows. I do not use the microfiber cloths on the toilets – I just can't get past it. One word of caution do wash them in fabric softener as they will lose absorbency.
Washing Soda is a great cleaner used in the all purpose cleaner and dishwasher soap mix.
Borax – I use it in my homemade cloth diaper detergent and my dishwasher detergent.
Alcohol – it is a great way to clean microfiber and get ink stains out of fabric.
There are many more, but these are my favorites.  So roll up your sleeves and make a natural and homemade cleaner – I think you'll be surprised how easy it is and how great they perform.