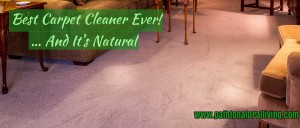 Have stubborn stains that won't come out of your carpet? Are you interested in cleaning carpet in your home naturally? I'm going to show you how to clean carpet stains and it is the simplest, most effective carpet cleaner around.
I might say it is magical – It is seriously that great!!!
Here's what you'll need
A bottle of hydrogen peroxide! I take the top off, insert a spray bottle top and I'm ready to get cleaning.
A microfiber cloth is best – paper towel also works with a little more scrubbing
Here's How to do it
For big spills, try to blot up as much of the stain first and get up any big pieces. Spray the stain thoroughly – then rub with a microfiber cloth until the stain disappears. Usually stains are gone in one pass and seem to disappear before your eyes.
You'll Save money
You will never buy regular carpet cleaner again. This stuff is that great! It costs only about $1 a bottle. Most people have hydrogen peroxide in their first aid kit, so it safe to use around kids and pets.
Note: Please do a color test on a small unseen part of your carpet first to test for colorfastness first. I have used it on every carpet on my house with great success and no discoloration – that is a question I get asked often.