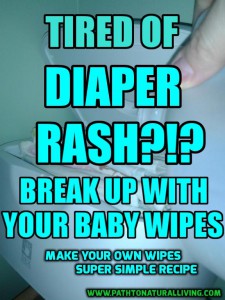 Are you tired of your baby getting diaper rash all the time? Diaper rash creams get expensive plus many are filled with ingredients you don't want on your precious babies skin.
Baby wipes give my little ones diaper rash, and I'm not alone. Many of my friends and other parents I've talked to have the same problem.
Making your own wipes is easy (and dare I say fun)! Try this homemade baby wipes recipe and see an improvement in your little ones behind.
What you'll Need: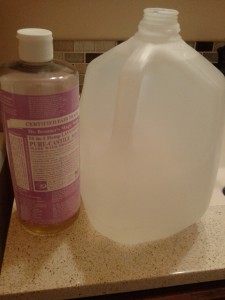 – A gallon jug
– Reusable baby wipes or baby wash cloths or a roll of paper towels
– Castile Soap or baby shampoo (I like Burt's Bees)
– Lavender Essential Oil (optional)
– Water
– A container to hold your wipes
It's oh so simple
First fill the gallon jug with water (if it wasn't already filled).  Add several squirts of castile soap or Baby Shampoo and 8-10 drops of lavender essential oil (optional) and shake.  I like to add the lavender because works great on skin irritation.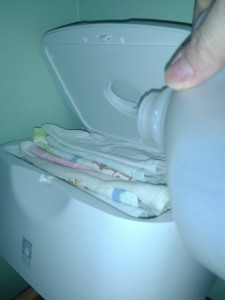 Pour the wipe solution over your baby wipes (more on the wipes themselves below). I store mine in a wipe warmer so my baby always has warm wipes, especially in cold months. You can use a one of the plastic disposable wipe containers or any other waterproof container with a lid that would fit your wipes. Give the wipes 10 minutes or so to absorb the water to see if you need to add more. If they are too wet you can wring them out.
Reusable Baby Wipes
You can use baby wash cloths for your wipes or make your own out of squares of fabric sewn together much like a pillow. I use cloth diapers so I launder the wipes with the cloth diapers. Otherwise you can wash them alone in a hot cycle in the washing machine.
Once your baby starts eating table food things will get a little tricky.  I went to the disposable method using paper towels instead of reusable wipes when wiping poop cause it got too gross for me. The purpose of a wipe is to wipe off poop and if I have to wipe the poop off of the wipe, then that's just craziness to me.
Disposable Baby Wipes with Paper Towels
So…. the solution is to take a roll of paper towels and cut them in half so you have two smaller rolls afterward. I use a big knife to do this – please be careful. Once the roll has been cut in half you can pull out the cardboard roll in the middle and you have disposable homemade wipes that tear off one sheet at a time. Pretty cool huh?
A Plug for Cloth Diapers
If you are up for the challenge I also recommend cloth diapers. They are not for everyone – but you will also avoid all the yucky ingredients in diapers like bleach and petroleum. And they can save you lots of money! I use cloth diapers most of the time, but still use disposables overnight and on outings.
My favorite brand of cloth diapers is Kawaii. They are most like a disposable diaper, have held up well, have cute prints and run about $5 a diaper when you buy a bundle. They have paid for themselves quickly plus they don't have a big learning curve like some other cloth diapers.
Leave me a comment below to tell me how the wipes worked out for you and your little one.
I would love to hear from you 🙂