Do you wash your fruit and veggies before you eat them? If you don't you should EVEN if you buy all organic! Organic products often still use fertilizer and natural pesticides. I wish we could afford to buy all organic foods, unfortunately our grocery budget only extends so far. Plus organic or not, there is dirt and bacteria on your fruit and veggies. So I'm going to tell you how to clean fruit with vinegar (and don't worry you won't taste or smell vinegar in your fruit when you eat it)!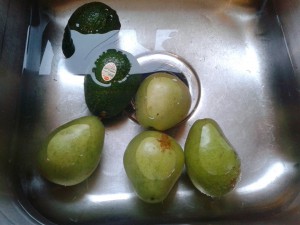 It's super simple to do!
Fill a sink 1/2=1/4 the way up with cool water – add 1/2 – 1 cup of white distilled vinegar and soak your fruit and veggies for a little while. I like to let them soak for 15 minutes, sometimes its an hour if I get distracted.
After their bath – rinse with cool water.
Put them on a towel or dry mat beside the sink to dry off a little
Wipe completely dry with a towel or microfiber cloth. The drying action with the cloth will get even more of pesticides and dirt off.
Soaking period for different types of fruits
For apples, avocados, pears, oranges, pomegranates, and grapes it does not really matter if you let them soak longer than 15 minutes. Some have probably soaked in my sink for 2 or more hours.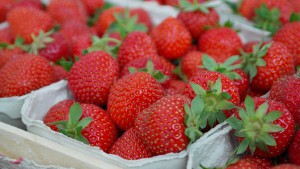 For more delicate fruit like strawberries, raspberries and cherries you have to watch more closely. I only give them a quick dunk (maybe 1-2 minutes) and rinse them off. If not the vinegar will deteriorate the fruit and make them mushy – don't make the same mistake I have. The quick dunk also helps to get rid of the mold that lives on berries so they stay fresher longer.
Use it on your veggies too!
I also use this vinegar wash with my vegetables – lettuce, peppers, tomatoes, potatoes…. It is the same process and works very well at getting off dirt and pesticides.
I keep a bottle of vinegar under my sink so its handy when I need it. Its safe to keep around my kids which gives me peace of mind.
Hope you give this super simple and inexpensive fruit and vegetable wash a try. Give me a shout and let me know how it worked out for you!
Thanks for reading 🙂