Do you love ice cream cake??? I know our family does. I'm going to share my easy homemade ice cream cake recipes (pictures included) with you today. Making an ice cream cake is EASY – no baking required! Plan ahead – making an ice cream cake takes at least 24 hours.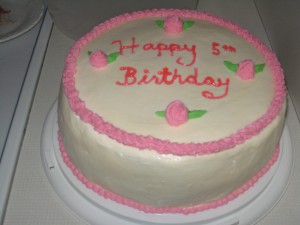 What you'll need
2 half gallons of ice cream
1 stick of butter
3 dozen homemade cookies or 1 large box of store bought cookies
8 cups of whipped cream
Your favorite dessert toppings (caramel, chocolate sauce, etc)
Spring foam pan
My Favorite Ice Cream Cake Recipes
Basic chocolate and vanilla ice cream with chocolate cookie crust
Oreo cookie ice cream with oreo cookie crust
Mint chocolate chip ice cream with chocolate chip crust
Cookies N Cream Ice cream and vanilla ice cream layers with Chocolate chip cookie crust
Peanut butter chocolate ice cream with peanut butter cookies
The list is endless – pick your favorite ice creams and mix with cookies!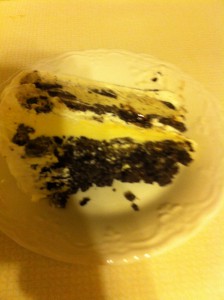 You have one of two cake options:
Make the ice cream cake in a 1/4 sheet cake pan
Make a 2 layer round cake
I'm going to make a round ice cream cake with two layers in this tutorial
Making your ice cream cake
Take one container of ice cream from the freezer and put it in the fridge. You want your ice cream to get a little soft but not melted. Just enough so its flexible enough to be pressed into your pan.
Cut your butter in half and melt one half in the microwave or on your stovetop. If using the microwave cover it with a paper towel so butter does not splatter all over your microwave. Typically mine melts in our microwave under 2 minutes.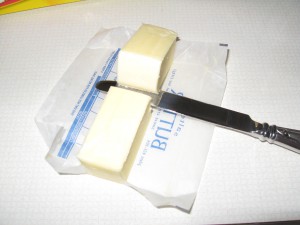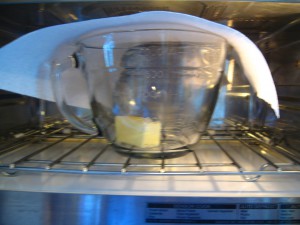 3. Take your cookies and grind them up in the food processor or put them in a gallon sized plastic bag and smash them up. This can be done to your preference, if you like bigger cookie chunks then smash them up less. I use a mini food processor because it is fast and easy.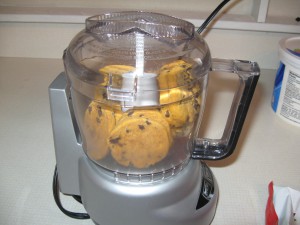 4. Now prepare your spring foam pan. I separate the two pieces of the spring foam pan and lay two pieces of plastic wrap on the bottom piece and then put the top piece back on. If you are doing a two layer cake spring foam pans must be used – it would be very hard to get the cake layer out of a regular cake pan. Being able to take the sides off is key. If you have two spring foam pans of the same size, then it is even faster since you can do both layers at once.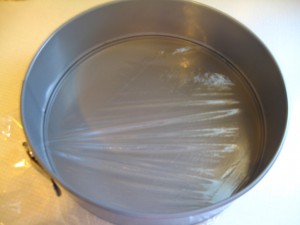 5. Mix your butter and cookie pieces together. Then spread on the bottom of your spring foam pan. Add your favorite topping such as caramel or chocolate sauce. Put it in the freezer for 20 minutes until your cookie layer is hard.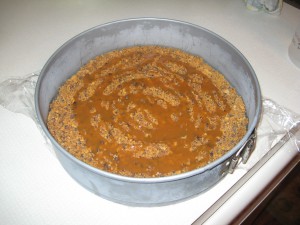 6. Now add your softened but still frozen ice cream. Spread it out until it is as smooth as you can get it, cover with aluminum foil or plastic wrap, and put it back in the freezer to get hard. I usually do this in the evening and freeze overnight.  I only have one pan this size, so I do one layer per day. You could easily do one layer in the morning and another in the afternoon and have ice cream cake by dinnertime. Of if you have two pans, just knock out two layers at once.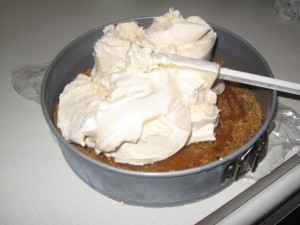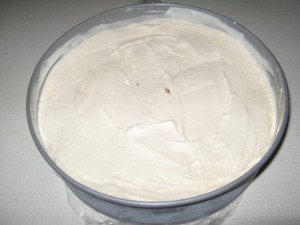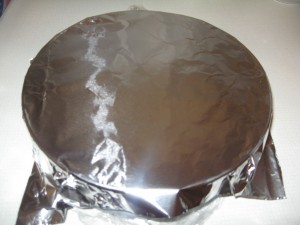 7. Once the layer has frozen back up, let it sit out for a few minutes and open the side of your spring foam pan and remove the layer. I wrap it up in plastic wrap and aluminum foil.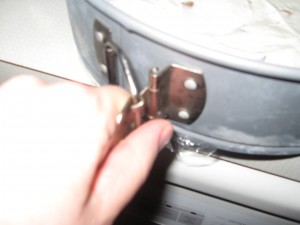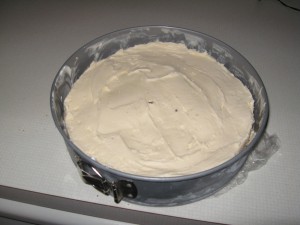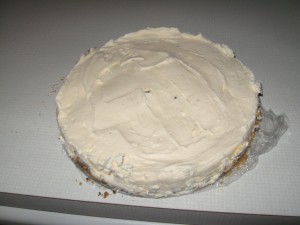 8. Now you can frost your 2 layers of cake, make sure you are using frosting or whipped cream in between your two layers. I use a mix of homemade icing and whipped cream – just whip them together. You can use plain whipped cream, icing, or whatever else you wanted. I've also baked a cake in the same spring foam pan and used it in between the ice cream cake layers. There are so many options.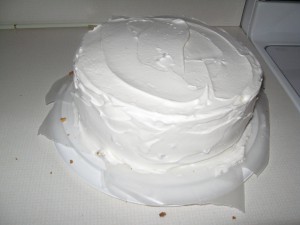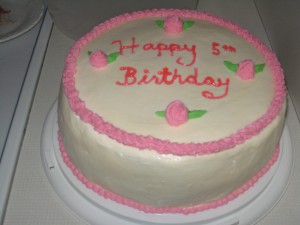 Give it a try and I know you'll be surprised how easy it is and how great it turns out. No baking required. The best part is you can completely customize the flavors. I'd love to hear how it turns out and what flavors you picked!!