Are you looking for Bona Hardfloor Cleaner reviews? You've come to the right place!! I have owned the Bona Hardwood Microfiber Floor Mop for 3 years.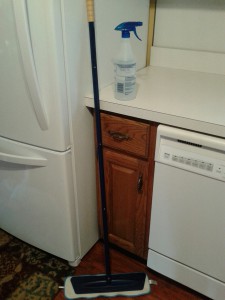 Rating: 4/5
Where to Buy: Amazon.com or Lowes
Price: $21.98
Product Description:
Microfiber floor mop with a telescopic handle. It can be used to dust the floors with the Bona Microfiber Dusting Pad or to mop the floor with the microfiber cleaning pad, a mop and a floor duster in one. The Bona microfiber floor mop can be used to clean hardwood, stone, tile and laminate floors. The microfiber pads attract and trap dust and dirt and is super absorbent.
Pros:
Lightweight
Easy to use
Does not unscrew easily from mop head like other brands I have tried
No moving parts to get broken
Has withheld heavy use in my home for 3 years without signs of wear
Does an excellent job gathering hair and dirt from the floor
Pad are super easy to change – they attach with Velcro and the Velcro on the bottom of my mop has not come loose like other mops I've had
Cleans the floor very well without scratching the surface
Pads are machine washable, saving money on disposable pads. Once you buy the kit – all you need is to buy the floor cleaner or make your own.
Cons:
Requires manually scrubbing the floor to clean it – a few passes may be needed for dried spills.
Kit only comes with one dusting pad and one microfiber cleaning pad. I recommend purchasing extras – I typically use two while cleaning my floors. I also have generic microfiber pads that I purchased on Ebay that clean just as well, but are much less expensive although not quite as thick.
You need a separate spray bottle to clean the floor. The upgraded model of the Bona Hardfloor Cleaning System has an attached spray bottle to the mop but it is close to twice the price at $39.88.
Conclusion
For the price point, this is a great buy to clean your hardwood or laminate floors. I would buy it again and would definitely recommend it to a friend. Although next time I would probably upgrade to the Bona Hard floor System with the bottle attached to the handle.
What are you using to clean the hard floors in your home and how is it working for you?