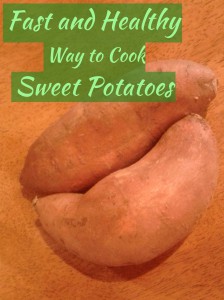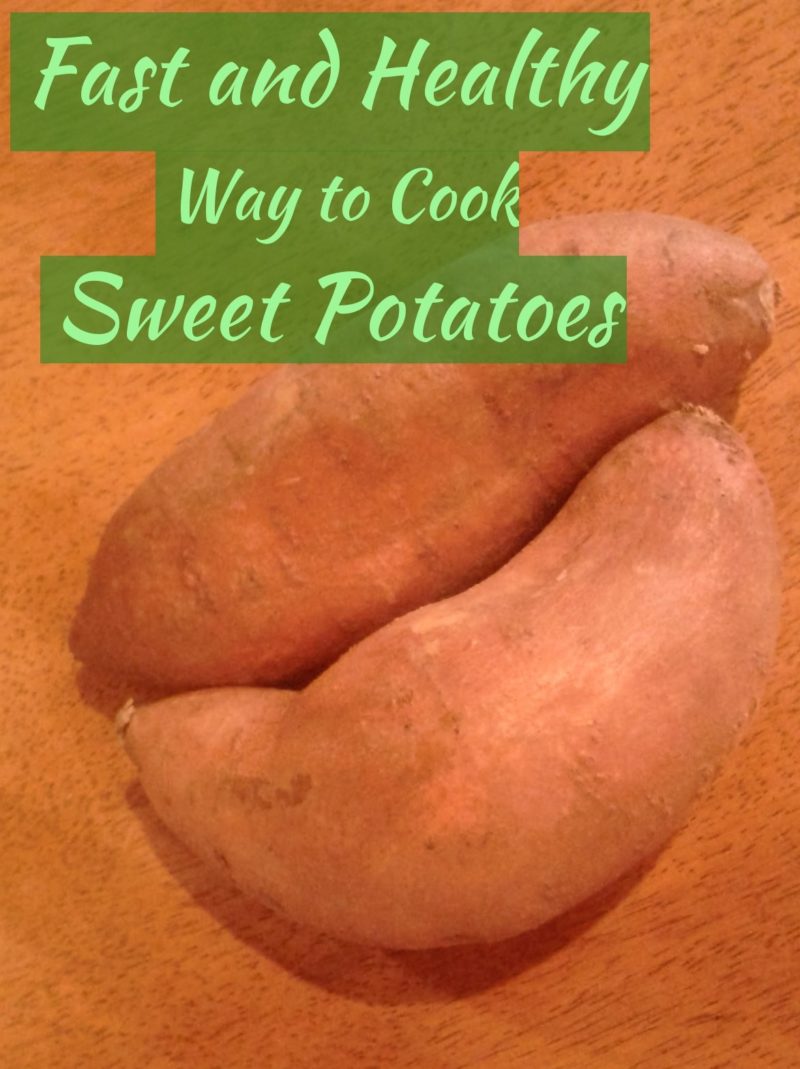 I love to eat sweet potatoes – they are delicious and good for my health. The cooking method used to prepare foods can strip away vital nutrients. Below I'll share the fastest and healthiest way to cook sweet potatoes that locks in vitamins and minerals. It is the super simple alternative to cooking sweet potatoes in the oven, at a fraction of the time.
The Old Way of Cooking a Sweet Potato
Before I share how I bake my potatoes now (and no it does not involve a microwave) – I'll reminisce on what I used to do.
My tried and true method was baking them in the oven at 300 degrees for 2-3 hours. The lower temperature and longer cooking time made them sweeter.
I would individually wrap each sweet potato in aluminum foil, then place them on a foil lined baking sheet.  It worked very well for me for a long time. You can read more about the oven baking method here. Keep reading to find out the fastest and healthiest way to make a sweet potato!
The problem with oven baking my sweet potatoes was I had to plan ahead of time. For busy working families, putting food in the oven 3 hours before dinner is not a luxury they have within their grasp.
Plus, I was going through a lot of aluminum foil – not good for the environment or my wallet. On a side note – did you realize you can recycle aluminum foil?
Fast and Superior Alternative to Baking Sweet Potatoes
One day I was reading the manual to my pressure cooker – I know… quite exciting. Low and behold, I discovered I could use the steam setting on my pressure cooker to cook sweet potatoes – I was excited to try it!
The first time I steamed them for 5 minutes – not enough. The next time I adjusted the time to 10 minutes – perfect!!
Pressure Cooker = Huge Time Saver to Make Whole Food Meals
If you are unfamiliar with a pressure cooker – they are amazing devices. Unlike the scary contraptions of the past, electric pressure cookers now have many safety features and pre-set settings to make cooking a breeze.
If you are shifting your diet to a whole foods diet, paleo or just have a busy schedule – a pressure cooker is your answer to healthy food fast. Pressure cookers are a HUGE TIME SAVER!
Pressure cookers cook your food through steam – not high temperatures that zap nutrients from your foods. Pressure cooking is one of the best ways to retain nutrients in your food since the highest temperature inside a pressure cooker is about 212 degrees.
Essentially water is boiled inside a pressure cooker – creating lots of steam that cooks your food while forcing moisture in the food at the same time. See why the results are so great? You can read all about buying a pressure cooker here.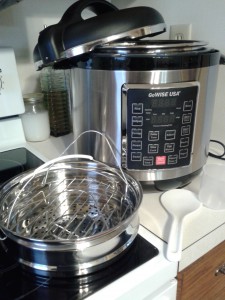 While I love my pressure cooker (GoWise is the pressure cooker I own), I have learned it works best on certain foods. My favorite things to make in my pressure cooker are yogurt, rice, sweet potatoes, beans, and replaces my slow cooker. Steaming green beans in your pressure cooker results in mush – so you just need to know what works best.
Sweet Potato Fries – Yes Please!
French fries are a family favorite. I peel and slice sweet potatoes into strips – then bake them at 450 degrees for 15 minutes or until they start to brown a little.
I like to toss my french fries with a little oil (preferably coconut oil or avocado oil). You should make sure the oil you use can withstand high heat – check out my healthy cooking oil chart to see how your oil stands up. You want something with a high smoke point.
At home, we also use regular potatoes to make french fries too. Regardless the type of potatoes, it takes me about 5 minutes to make two whole trays – the work is worthwhile – homemade french fries are the best!
Check out this cool video about sweet potato health benefits plus great sweet potato recipes.

Get Cooking!
With so many delicious options – it's easy to get sweet potatoes on your dinner table several days per week.
Comment below – What is your favorite method for baking sweet potatoes – and of course your favorite way to eat them. My favorite is steamed with a little coconut oil and salt. Delicious!!