Easy and Natural Way to Clean Your Glass Top Stove!
Last night my wonderful husband made dinner for our family – Shepherd's Pie – yum! Well after boiling mashed potatoes there was quite a looming mess on my stove. I cleaned it up in magically in just a few minutes using one ingredient without any harsh chemicals – crisis averted! Cleaning glass stop stove can be simple and quick!
Above is my before picture.  Pretty bad huh?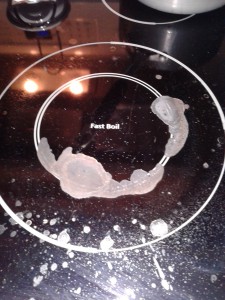 Here is how I did it:
I sprinkled the magic ingredient of baking soda on the stove and rubbed with a wet dish cloth. Yup, the $1 a box of baking soda. I keep baking soda in a recycled plastic parmesan cheese container below my kitchen sink.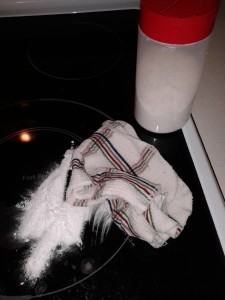 I recommend using a paper towel instead of a dish rag as all the black mess will come off on your towel. Sometimes it comes out in the wash for me, and other times it does not.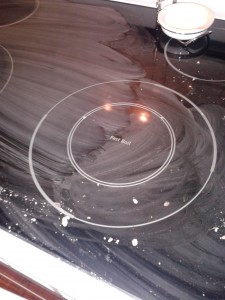 The yucky mess came right up. I buffed it clean with a microfiber towel to get up any remaining residue from the baking soda.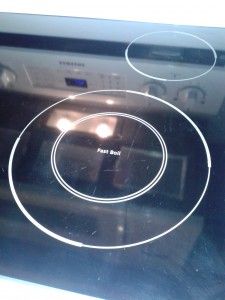 Save your hard earned money & your health! No more expensive glass top stove cleaner. Baking soda works better than the two brands of glass top cleaner I tried.
This was a fresh mess meaning I did not cook on the burner before cleaning it. If you have used the stove again while the burned on mess remains there's still hope. Although it is harder to clean. Give yourself a break next time clean it up before you use the burner again.
Repeat scrubbing the surface with baking soda a few times
Use a microfiber cloth – it will give you some extra cleaning power.
Wet a paper towel or cloth with vinegar – let it be pretty wet but not dripping. You want to saturate the surface but not have a puddle on your stove. Let it sit for 15 – 20 minutes to help loosen the mess. Then perform the above method with baking soda. Vinegar works to clean many other messes.
I use bar keepers friend on my stove for stubborn messes (like when my jam boiled over – UGH!). It cleans my glass top stove very well and does not scratch it.
In a pinch I used a razor blade on the surface. I would do this only in desperate times and very very carefully. You can easily scratch the surface with a razor blade.
If you are concerned the baking soda would scratch your glasstop stove, test a small area first. I use this method all the time and it has never scratched the surface of mine.
My stovetop does have tiny scratches on it from being lazy when moving pans. I know I should pick them up, it just doesn't happen. Sliding pans around your stovetop makes more scratches than using baking soda.