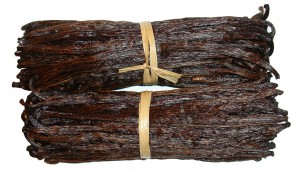 Several years ago I went on a quest to find the simplest and the best homemade vanilla extract recipe. Our family does a lot of baking – going through a lot of vanilla.
It always made me scratch my head in bewilderment – why the heck does vanilla extract cost so much?!?! Is there liquid gold in there or something?
Many years later I still make my own vanilla extract and I'm hooked. I always have some on hand and it's frugally delicious! Give it a try – I think you'll be hooked too.
Supplies for Making Vanilla Extract
Vodka – I buy the cheap bankers club stuff.  I have used the expensive stuff, mid priced stuff and cheap stuff. I did not notice a difference in the quality of the vanilla extract.
Jar to put vanilla extract in – I use mason jars but any glass jar would work (I would stay away from plastic). You could even use an old sauce jar that you wash out.
Grade B Madagascar Vanilla Beans – I buy grade B Bourbon beans because they are best for making an extract – they aren't pretty like in pictures, just super fragrant
Let's Make Some Vanilla Extract
Pour vodka into your jar – fill it up enough so that it will cover your vanilla beans. However high you fill it up will be how much vanilla extract you will get.
Next slice your vanilla beans the long way but don't go all the way through. You just want to expose the insides of the beans.
Stick the vanilla beans in the jar and put it on a dark shelf (I store mine on a shelf in the basement).
You want to shake the jar occasionally – I probably only do it every few weeks to a month. About the time I need to refill my vanilla bottle in my kitchen.
Waiting is the Hardest Part…
Give your jar a few months and your vodka and vanilla beans will be transformed to vanilla extract.
I leave the beans in the jar and I reuse them for 2 bottles of vanilla extract before replacing them.
The extract gets darker the longer it sits – optimally you should wait 6 months to get more flavor.
I usually have three jars that I rotate through so I always have some ready and on hand.
Comment below to let me know how easy it was for you! I'd love to hear from you